How to Use Yesterscape
Login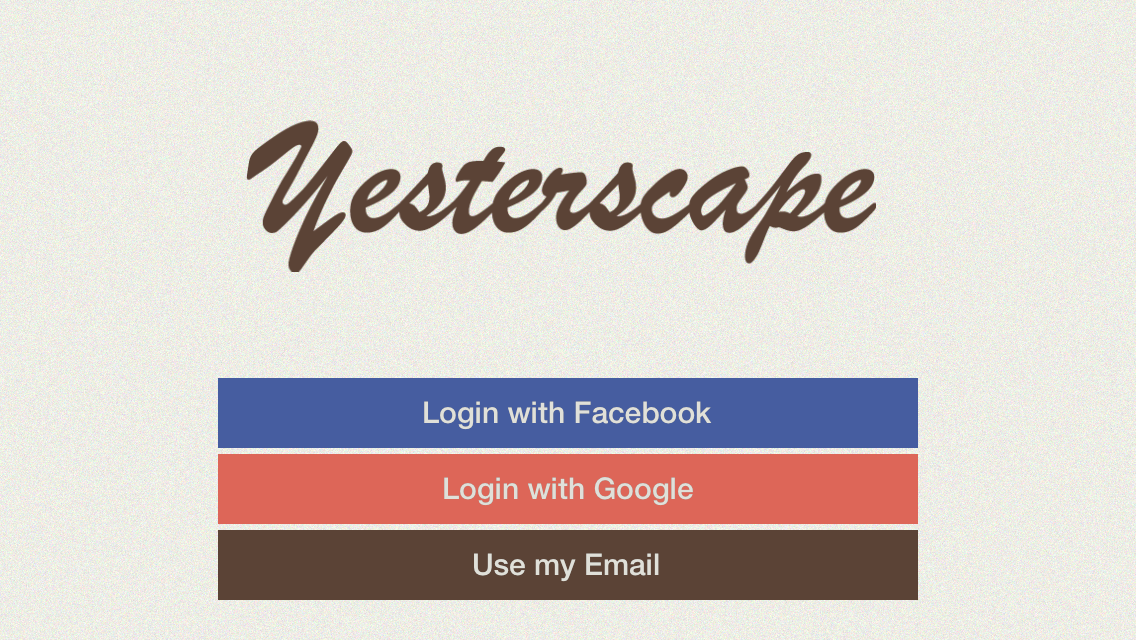 You can easily log into Yesterscape with a Facebook or a Google account. Or if you prefer, you can create an account with us.
Sign up Details
Main Screen
When you launch, Yesterscape pictures around you will appear. The right menu allows you to filter what photographs will be show to you. The left menu lets you switch Modes.
View Picture Details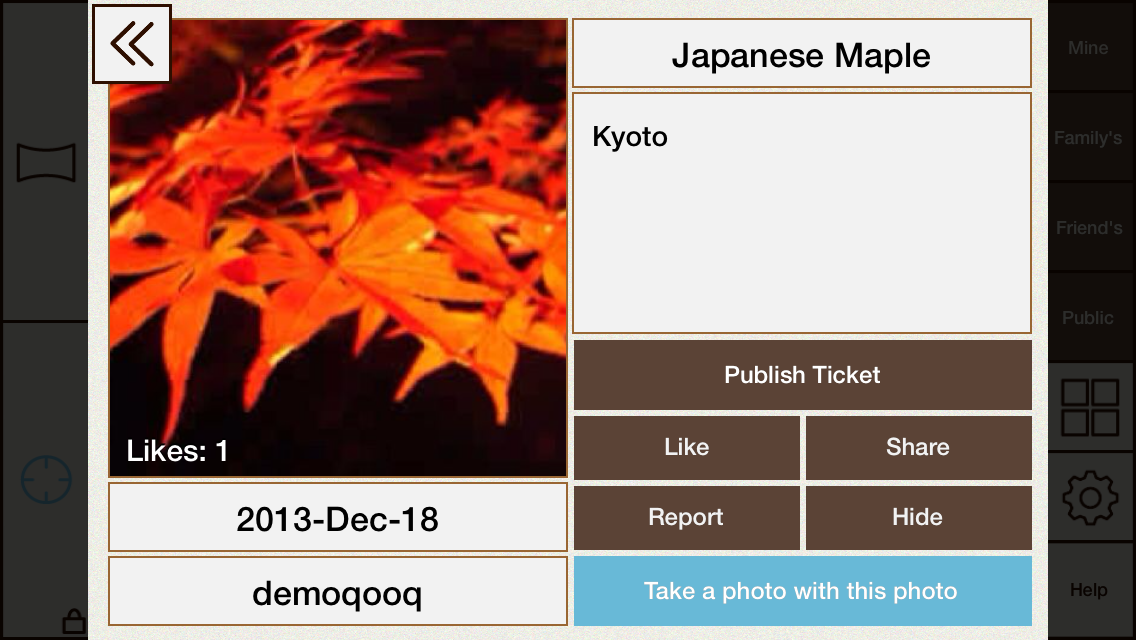 When you select the picture, you can see the details of the picture. By pressing "Hide," the picture will no longer appear on the main screen. (Restart the app to reset changes)
Picture in Picture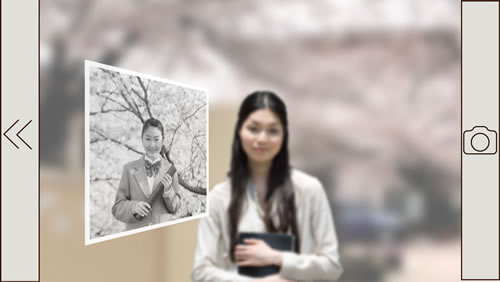 Take a picture alongside one that has already been placed in Yesterscape.
Scope Mode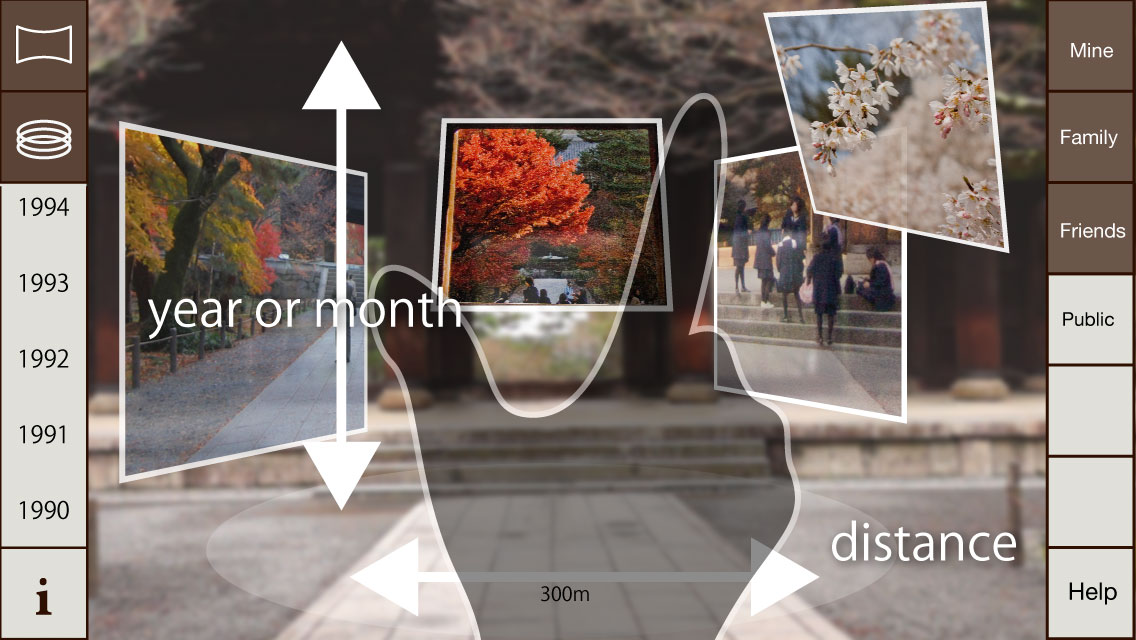 Changing the scope lets you browse through time and space. Swiping vertically changes between month, year and decade. Swiping horizontally adjusts how far you can see.
Location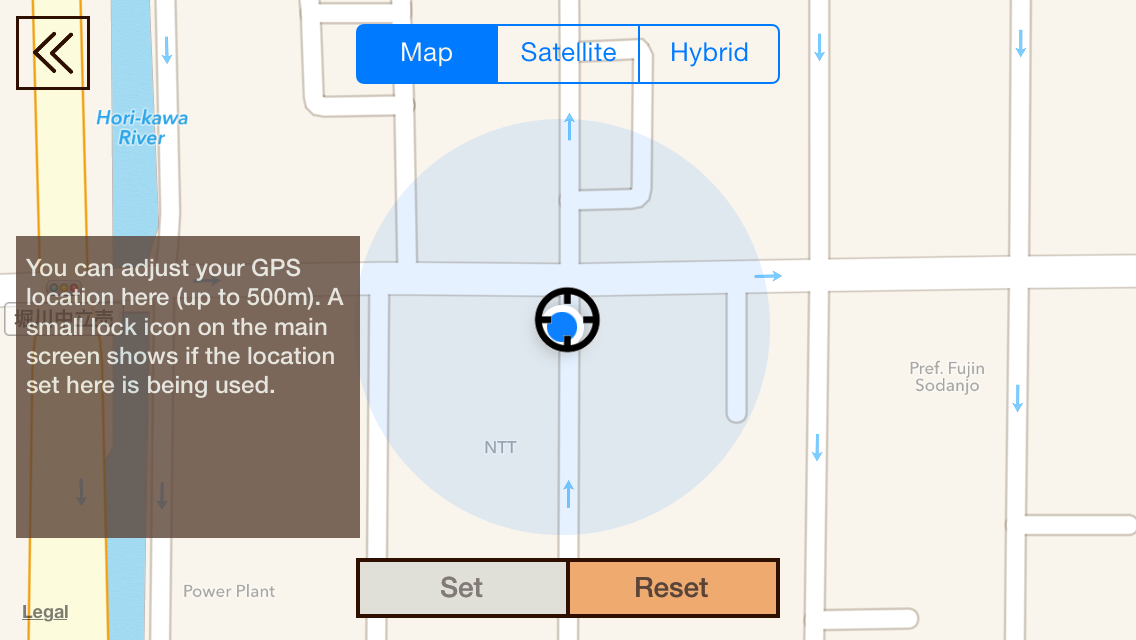 Yesterscape requires accurate GPS information. If you feel the GPS is not acccurate, you can fix your location by pressing the button on the lower left.
Camera Mode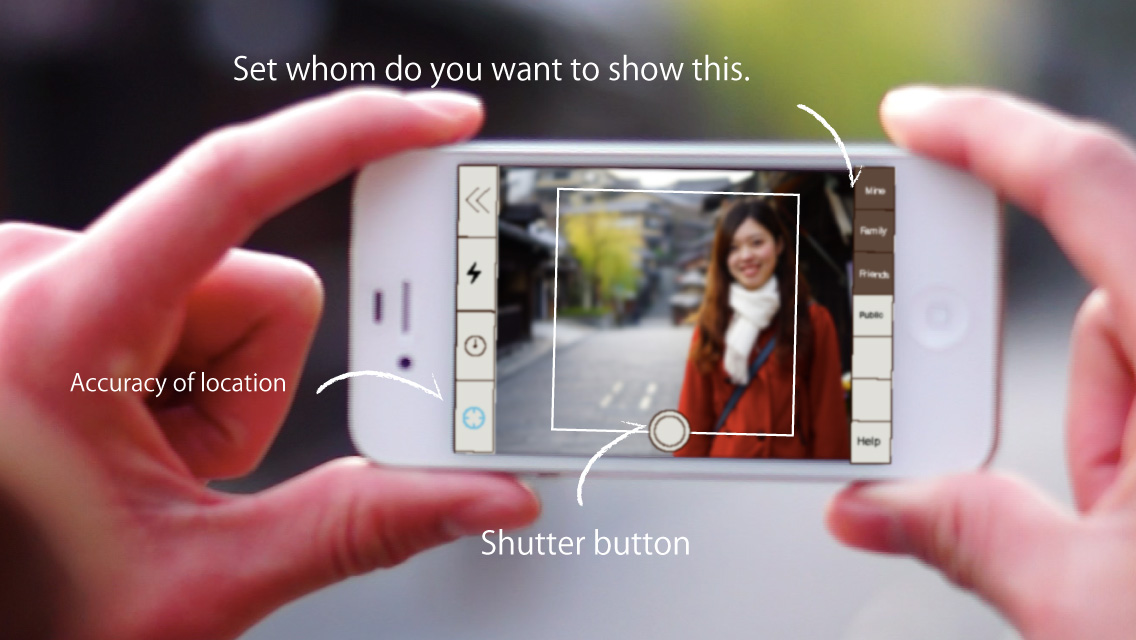 The Camera Mode is launched when you press the camera button. The Timer function and the Strobe function is available on the left side of the screen. You can take a picture by pressing the icon on the buttom center.
Embed Picture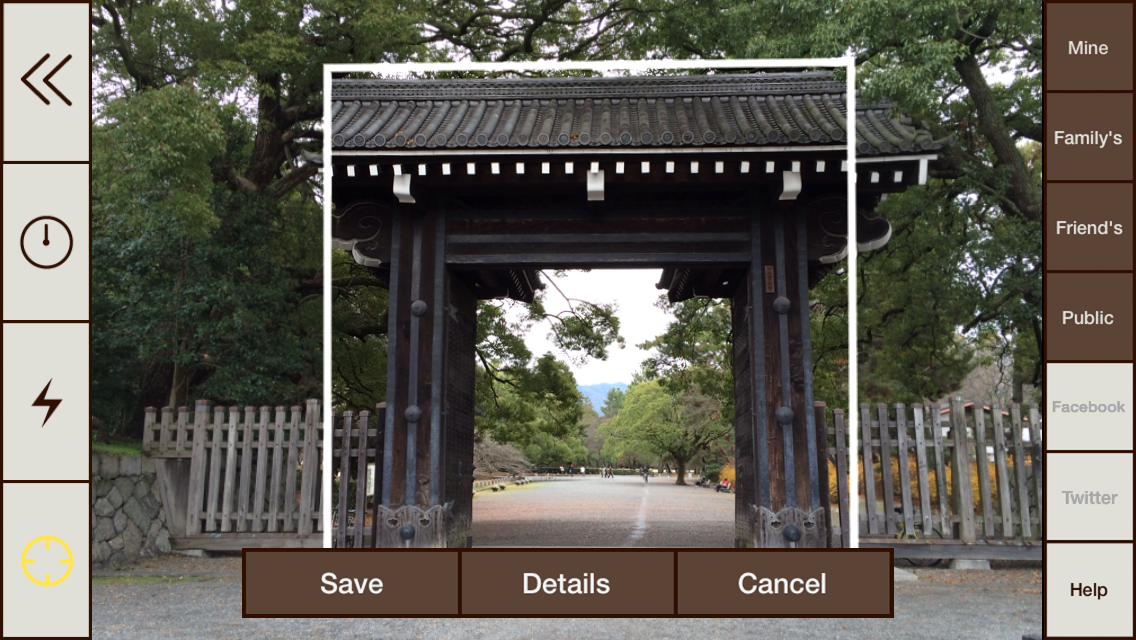 Name the picture and type details of the picture. In addition, choose who can see this picture and if you wish to share it on Facebook and Twitter or not. Press "Confirm" and your picture will be embedded in the space.
Gallery Mode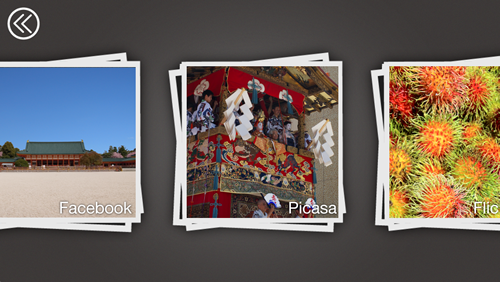 The gallery lets you see all the pictures you have. Pictures are device independent so they will remain synchronized with all your devices. If you have any pictures in your device, Facebook, Flickr or Picasa account that you would like to see in Yesterscape you can add them here.
Settings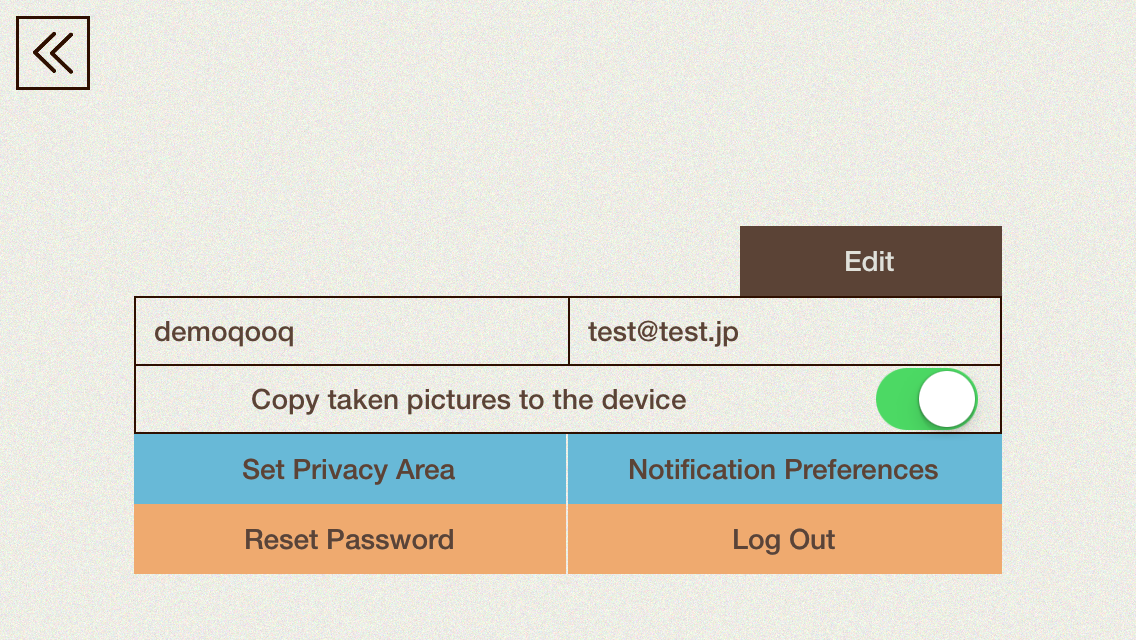 Change your username, password SNS posting settings etc. Also, you can purchase the non-ad, non-limitated version of Yesterscape.
Privacy Area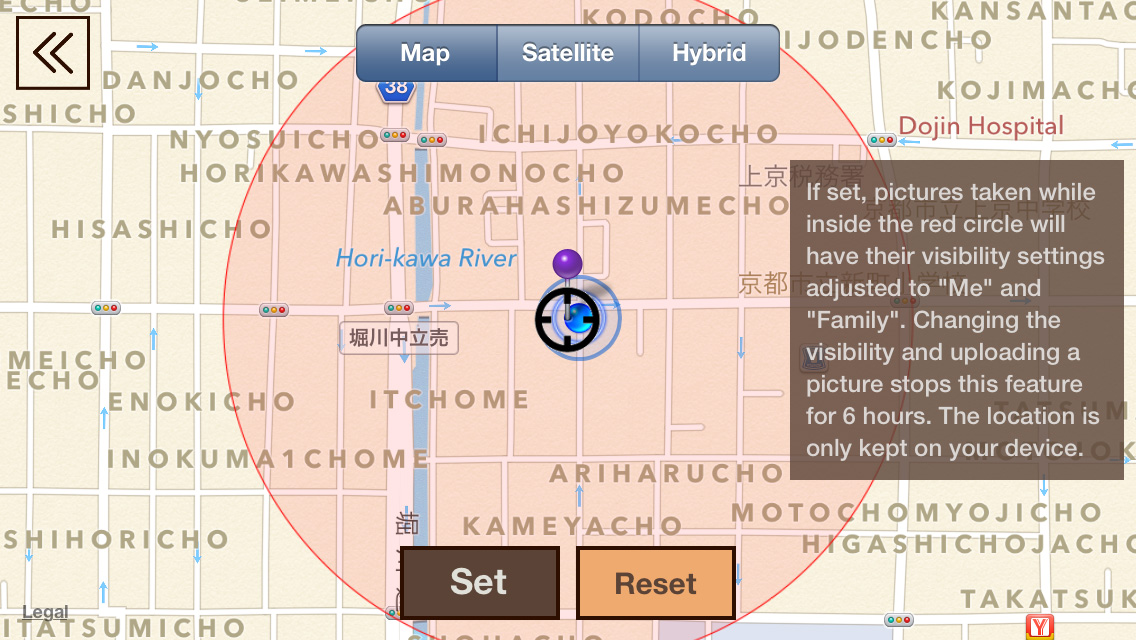 To protect your privacy you can set an area where pictures will make their default visibility set to "Me" and "Family" automatically before saving them.
Friends/Family List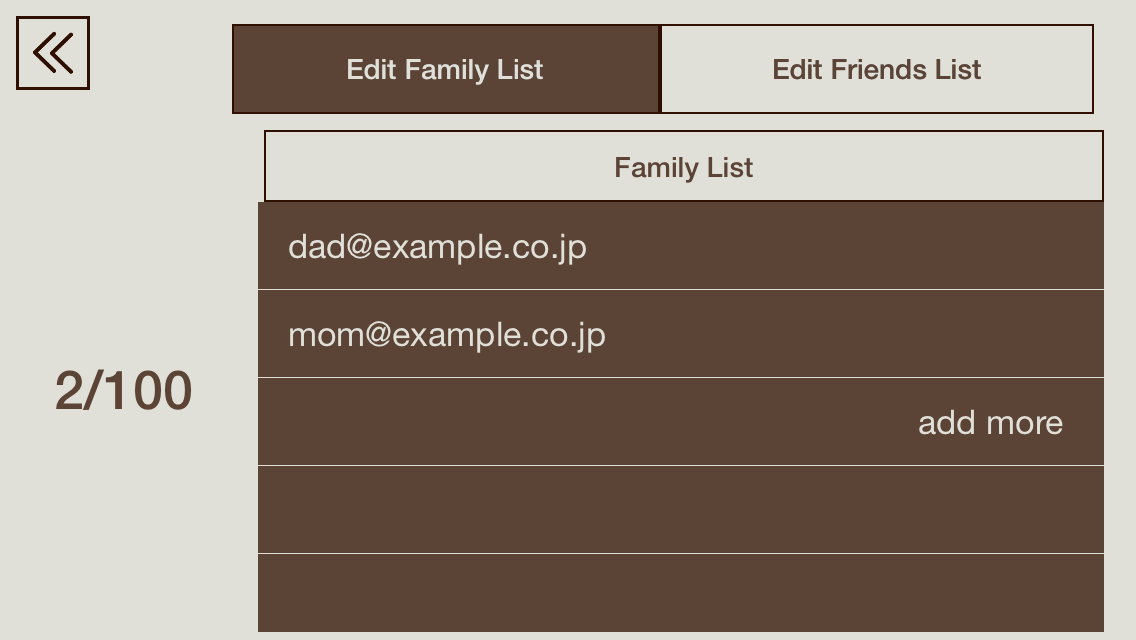 Make a list of your friends and family so they can see your privately shared pictures. You can add them via email, "Contacts" from your iPhone and Facebook.